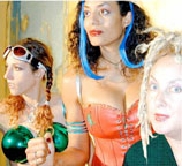 BETTY is the rock band of singer/songwriter/musicians Alyson Palmer, Amy Ziff and Elizabeth Ziff. The band's original music can be heard on any of BETTY's seven albums; on numerous guest recordings and compilations; on NPR; on tv on Showtime's The L Word, Discovery's Ms. Adventure and Animal Planet, Comedy Central's Out On The Edge , TLC's Cover ShotMTV, The Food Network, on the legendary and hair-raisingly 80's re-runs of HBO Family's children'seducational series, Encyclopedia; and in concert all over the world.

BETTY has been "the best rumoured unknown band in America" (Entertainment Weekly) since 1986.

In response to the persistent question, "How have you all stayed together so long?", BETTY wrote and performed the Off-Broadway hit, BETTY RULES, directed by Michael "Rent" Greif. For more information about upcoming tours of that show, visit bettyrules.com.